WEBINAR
What You Need to Know About Fundraising for Public Safety Tech
DATE AND TIME
Wednesday, June 30th, 2021
2:00 PM – 3:00 PM ET
Michael Martin
Co-Founder & CEO,
RapidSOS
Bio

Michael Martin is co-founder and CEO of RapidSOS. Michael's personal experiences around the challenges of emergency communication led him to found RapidSOS in 2013. Today, RapidSOS manages 150 million emergency calls annually in partnership with leading technology companies including Apple, Google, Uber, and Microsoft.

Michael brings extensive experience in start-up commercialization, financing, and strategy to RapidSOS. Previously, Michael worked at Braemar Energy Ventures, a $600M venture capital firm focused on energy technology. Michael also co-founded MS Consulting, a start-up strategy, financing, and operations consulting company with clients in the internet and mobile sectors. Between Braemar and MS Consulting, Michael served as a Board Member or Board Observer for eight companies in four countries. Before Braemar, Michael worked at Piper Jaffray in the Clean Technology Group. In the course of his principal investing activities and advisory work, Michael assisted nearly 50 companies commercialize their technologies, helping them secure in excess of $2 billion of capital.

Michael holds an MBA with High Distinction from Harvard Business School, where he received the R.F. Jasse Distinguished Award in Entrepreneurship and Leadership (top entrepreneurship award for class of 2015) and was named one of the "World's Best & Brightest MBAs" and one of the top two HBS '15 graduates by Poets & Quants. Michael received his BA Summa Cum Laude from Carleton College, where he was a Rhodes Scholar Finalist. In 2017, Michael was named to the top of Forbes 30 Under 30 Healthcare list.

Michael is a leading voice on public safety, personal security, and technology innovation. Michael has spoken before federal agencies and at top industry events on innovation, technology, safety, and security including TEDMED, Aspen Institute, SXSW, CES, etc.

Michael has published pieces in a variety of media outlets, including the Washington Post, has been featured on the homepage of MIT and across national media including The Wall Street Journal, The New York Times, Newsweek, Fox News, TechCrunch, New Scientist, Smithsonian Magazine, and Popular Mechanics.

Bryce Stirton
Co-Founder & President,
Responder Corp
Bio

Bryce Stirton, Responder Corp Co-Founder & President and ResponderXLabs Board Member. "We've brought industry together to build a clear path for entrepreneurs to commercialize their solutions in the rapidly growing public safety technology market."

Operating as the President and Co-founder of Responder Corp and vice president at Responder Ventures Bryce is responsible for sourcing and vetting top-tier investment opportunities for the fund. Bryce provides expertise in the analysis, diligence, valuation and structure of the firm's investments.

At Responder, Bryce supports entrepreneurs working to innovate public safety with the mission to deliver the tools and technology first responders need to be safe, secure and effective on the job. Responder Corp is a team of first responders, innovators and investors united by a passion to assist those who keep our communities safe. Bryce and team work to accomplish this mission with a comprehensive platform designed to promote a healthy ecosystem of innovation for the public safety industry. 

In addition to overseeing the firm's investment activity, Bryce is a board member for the firm's flagship Programs; 5G First Responder Lab in partnership with Verizon and ResponderXLabs in partnership with Amazon Web Services (AWS). Responder's global platform has invested in 14 leading technologies, graduated over 100 companies through its varied Programs', and hosts monthly innovation showcases through its ResponderXLive division. 

Prior to Responder, Bryce worked in investments as a VP and Private Equity Associate where he excelled in financial modeling, valuations and identifying, sourcing, and evaluating new investment opportunities.
WEBINAR
What You Need to Know About Fundraising for Public Safety Tech
Startups are transforming how public safety works—from AI to new tools to keep firefighters safe. Fundraising for public safety technology companies comes with unique challenges including finding the right investors and pitching successfully. Come learn how to navigate fundraising from Michael Martin, who successfully raised over $200M for RapidSOS and Bryce Stirton, President of the VC firm Responder Corp, who has led investments into numerous public safety companies.
R2 Key Takeaways Include:
– Keys to pitches for public safety tech companies
– What investors have top of mind when examining public safety startups
– How to think about where to invest the funding you raise for maximum impact .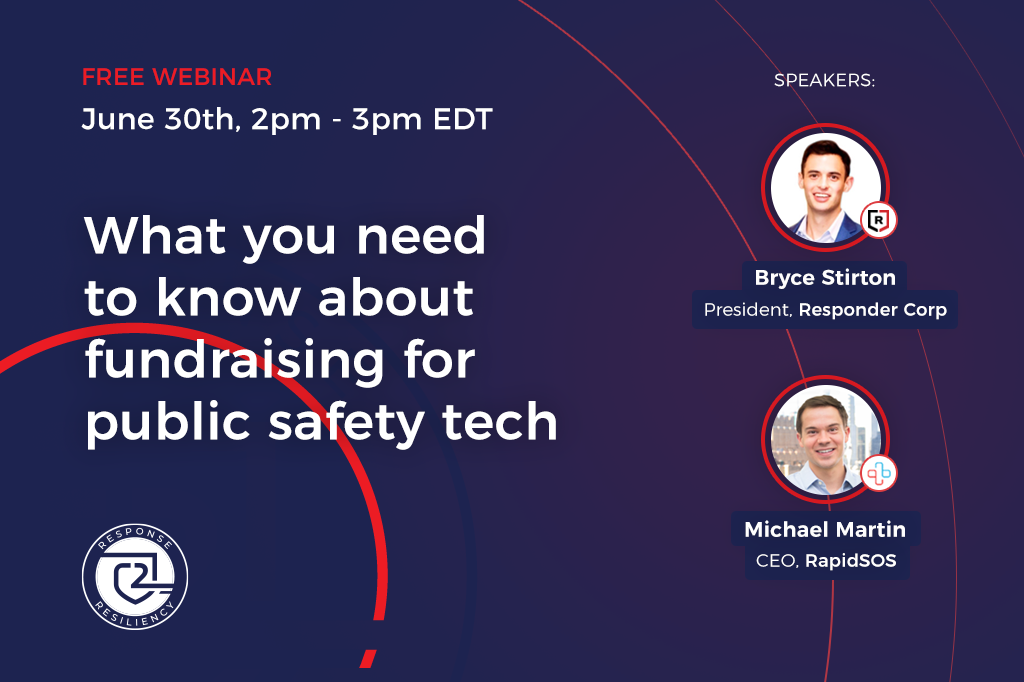 OUR MISSION
About The R2 Network
The R2 Network, a challenge put forth by the Department of Commerce and FirstNet Authority, is a public innovation program backed by a $2mm federal grant. Created out of a need to face the nation's most pressing Response and Resiliency challenges, the R2 network will deliver resources, tools and opportunities to entrepreneurs and first responders to commercialize and deploy new technology.